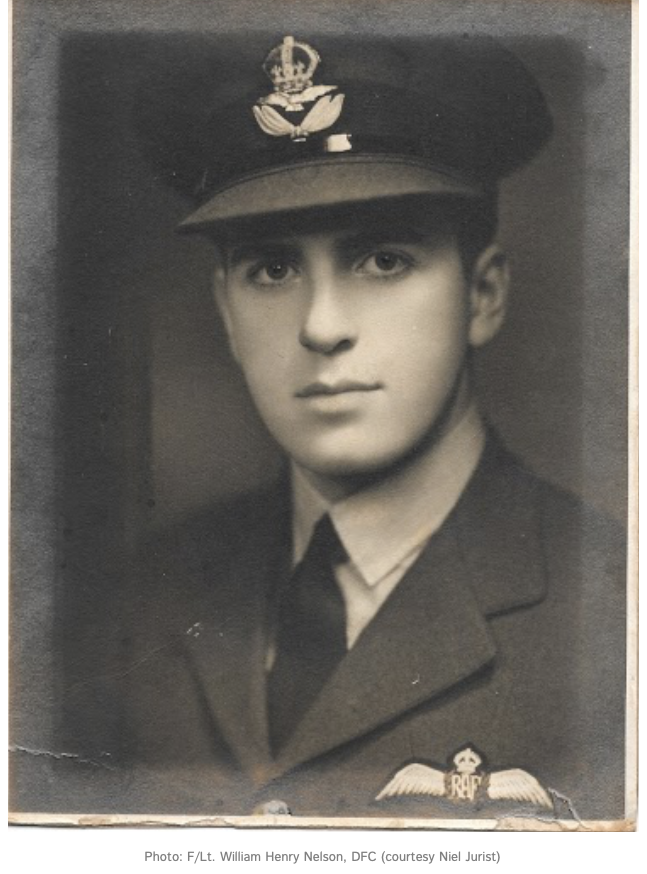 William Henry Nelson, DFC – A Canadian in the Royal Air Force
Like many young Canadians in the 1930s, William Henry Nelson wanted to fly.  Unlike all but a few, he fulfilled his ambition beyond imagining, becoming a decorated Royal Air Force bomber pilot early in the Second World War, then becoming an ace fighter pilot in the Battle of Britain.  
Nelson was a first-generation Canadian Jew, the son of poor immigrants from Russia and Romania, whose family name was originally Katznelson.  Unable to afford a university education, he went to work in Montreal's aircraft industry, but in 1936, at the age of nineteen, he left a humdrum life on the ground to go to England, intent on becoming a pilot in the Royal Air Force.  He began flying training there and on completion was posted with the rank of Pilot Officer to 10 Squadron, one of Bomber Commands foremost units.  A fine athlete, Willie Nelson was captain of his bomber squadron's team in Britain's Modern Pentathlon competitions in 1938 and 1939.  
Nelson was among the first Canadians to fly in combat over Germany, only days after the war began in 1939, and he was captain of one of the first RAF crews to bomb German targets in early 1940.  Shortly afterwards he was awarded a Distinguished Flying Cross for determination and courage in battle.  Upon completing his first tour of operations in Bomber Command, he chose to retrain as a fighter pilot, and within weeks had downed five Luftwaffe aircraft and damaged two more.  Very few men fought as both bomber and fighter pilots during the war, even fewer managed to excel at both.  
By the time Nelson was shot down in November 1940, at the age of 23, he had become the pride of Jewish Montreal.  His accomplishments were widely publicised at home, his status as the first Canadian Jew to have flown in combat and to have been decorated by the King were celebrated, and his portrait was featured on recruiting posters.  His combat record is well-remembered in the annals of 10 (bomber) squadron and 74 (fighter) squadron of the Royal Air Force.
Who was the man behind the iconic portrayal?  How did he come to do what he did?  What was his personal life beyond his war-time flying? 
What influenced him and what motivated him?  What was his legacy?  These are among the questions I will answer in the book I am now writing on Willie Nelson's life.  They are questions that can be examined for the first time by virtue of his family's letters, diaries, and photographs.  These have recently uncovered and assembled by his son, Bill McAlister (born William Harle Nelson), of London, England, through his own process of discovering the father he lost as an infant.  
It has been my good fortune and privilege to come to know Bill, who has not only provided me access to this treasure trove of documents, but over many hours together, shared his own observations and reflections. This material enables us, for the first time, to learn the personal stories not only of Willie Nelson, but also of Marjorie McIntyre, who he married days before the war began, and who after his death took her infant son to the safety and opportunity of Canada and to meet her late husband's family.  It is now possible to set out a full account of Nelson's exceptional life and tragic end, that disentangles fact from fiction.   These sources also bring to life Marjorie's time as a war bride in Canada with her infant son Bill.  I will also examine how Nelson became in life and death a hero to the Jewish community in Montreal.  These personal stories will be set in the larger context of the Montreal Jewish community of Nelson's youth, and of England and the Royal Air Force in the opening stages of the Second World War.  
You can follow our progress toward completion and publication of this book from time to time on my website.